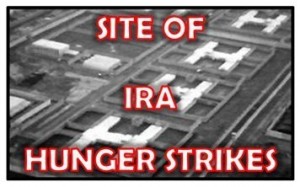 The Ulster Unionist Party, TUV and UKIP have said that the public have an opportunity to give a clear voice to their opposition against the planned "Peace Building and Conflict Resolution Centre" at the Maze by attending a public rally tomorrow night (Thursday) at 8pm in Lisburn Orange Hall.
In a joint statement Tom Elliott, Jim Allister and David McNarry said:
"The rally tomorrow night will be an opportunity for ordinary people to demonstrate their opposition to the DUP/Sinn Fein plans for the Maze.
"On 18thFebruary 2004 DUP MP for Lagan Valley Jeffrey Donaldson told the Guardian, "The victims of these terrorists will not visit this site. It would be an absolute abomination to them." Now he is chief salesman for a so-called "Peace Centre" which has been rejected by innocent victims the length and breadth of the Province.
"The DUP claim to be "mystified" by the position the Orange Order has taken on this issue. If they really are then they must be greatly confused by the position taken by the 12 groups representing innocent victims who launched the Charter for Innocent Victims, FAIR and the RUC George Cross Association as well. Just who do the DUP think they are speaking for on this issue?
"Thousands of people have already signed the petition calling for a halt to the building of a "peace centre" on the site of the Maze prison and the immediate demolition of the prison buildings. The general public recognise that Nigel Dodds was correct when he warned:
"However it is dressed up, whatever spin is deployed, the preservation of a section of the H-Blocks – including the hospital wing – would become a shrine to the terrorists who committed suicide in the Maze in the 1980s. That would be obnoxious to the vast majority of people and is something unionist people cannot accept."
"The public are encouraged to join us at tomorrow night's rally in order to demonstrate that the DUP/Sinn Fein spin isn't working".